This free Bike loan repayment & amortization calculator will help you to determine the repayments on a Bike loan after taking into consideration a number of factors including a deposit and/or the trade-in value of any existing Bike.
Simply enter the details below and click the [calculate] button in order to calculate the monthly Bike Loan repayment amount.
Bike Loan Details: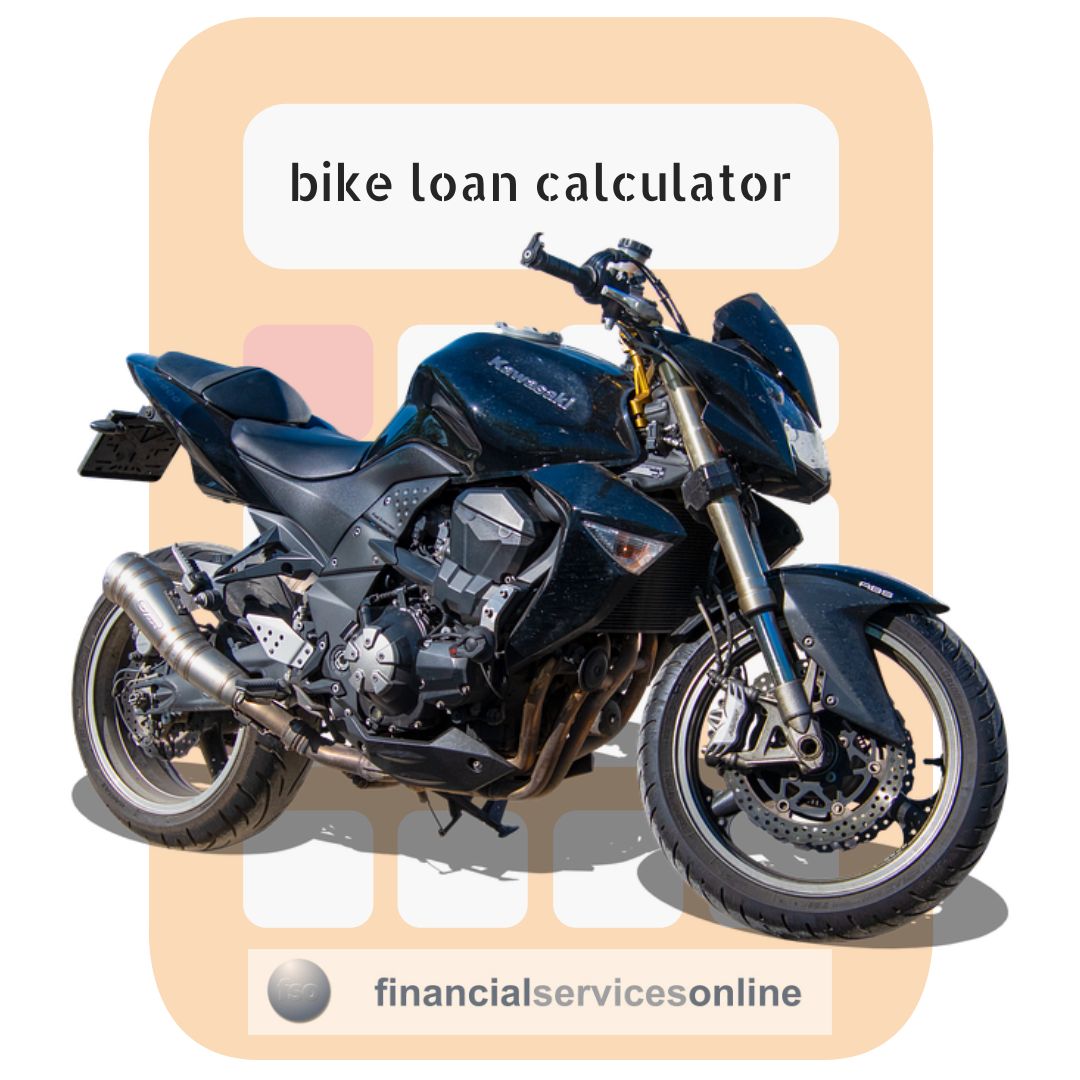 Important!
Bike Loan Interest Rates differ from lender to lender and will depend on your individual circumstances (credit history, employment status, age, etc.). To find out if you qualify ... and for a free, personalised interest rate and repayment quote, please CLICK HERE
Bike Loan Amortization Calculator
The following amortization graphs detail month-by-month data on the progress of the proposed loan. The first chart below examines the reducing loan balance over the course of the finance contract term. The second graph illustrates the portion of each monthly repayment allocated to payment of interest vs principal reduction.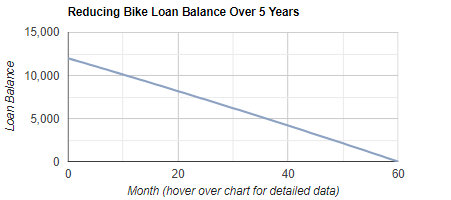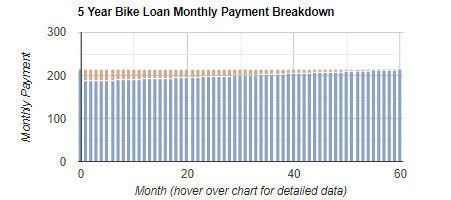 Share this calculator:
Bike Loan Finance Resources
Purchase Price
In order to provide an accurate simulation of your proposed bike loan, don't forget to include the on-road costs of the bike if applicable.
These costs might include:
Bike registration
Stamp duty on the sale of the bike
Bike insurance
Deposit or Trade-in Value
If you have either a cash deposit or an existing bike that you intend to trade, you should include the amount here.
The calculator will deduct the amount of the deposit or trade-in from the bike's purchase price when calculating the amount of the bike loan and the monthly bike loan repayments.
Bike Loan Term
The number of years over which you take your bike loan will have a big impact on both the affordability and the overall cost of your bike.
If you select a short loan term, your bike loan payments will be higher than if you select a longer term loan.
However, whilst you can make your monthly bike loan payments more affordable by taking a longer term loan, the total amount of interest that you will pay over the longer period will be higher.
Interest Rate
Bike loan interest rates vary quite considerably from lender to lender. The dropdown interest rates included in this bike loan calculator are loosely indicicative of the rates currently available.
The interest rate available to you will be dependent on a range of factors including (but not limited to):
Credit history

There will be more bike loan options available to you if you have a good credit history making it easier to qualify for the best rates. A poor credit history will limit your bike finance options because not all lenders accept impaired credit applicants. Those that do will generally charge a higher rate.

Employment status and history
Age
Income
Loan amount