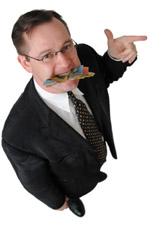 Hundreds of thousands of Australians make Finance, Insurance and other financial purchasing decisions every day ... and here is your opportunity to be a part of this explosive on-line income opportunity.
As a member of the Financial Services Online Affiliate Program, you'll earn SUBSTANTIAL COMMISSIONS for referring people to our website.
We offer access to the hottest insurance and finance rates from a big selection of Australia's leading financial institutions through a national network of insurance, finance and investment specialists ... connecting visitors with comprehensive product comparisons including ratings from top, independent research houses.
With millions of financial products being bought or renewed every year ... combined with an accelerated confidence in consumers making internet financial transactions ... your potential earnings are exceptional.
We provide you with a unique referral link to enable us to track every referral you send us - and we provide real-time statistics for you ... so you can see exactly how much income you are generating at any point in time.
You'll also add significant value to your website, newsletter or email signature by offering an easy way of saving time and money for people making financial decisions!
How the Program Works
When you become a member of the Financial Services Online Affiliate Program, you simply place a link from your web site, newsletter, etc to our website at financialservicesonline.com.au.
We will keep track of the number of visitors you send to our site, and we will also track the quotes these visitors request on our site. You, in turn, will earn commissions on these events.
We handle the entire customer service process.
You will also be able to use FinancialServicesOnline logos, graphics, and banners while you are an affiliate. All logos, graphics, banners, and other content provided by FinancialServicesOnline must be used exactly as provided and may not be altered in any way. Please do not use any logo, graphic, banner, or other content that harms the value of the FinancialServicesOnline trademarks, service marks, goodwill, or misleads consumers in any way regarding your relationship with FinancialServicesOnline. FinancialServicesOnline reserves the right to object to any particular usage of graphics, banners, or content by you.
The benefits to you are:
Free Sign Up
FinancialServicesOnline is a FREE service for affiliates - you have zero risk.
Real Time Tracking
Continuous and up to date reporting on how much money you have made.
Quality Content
Earn great commissions while providing relevant and quality content for your web site, newsletter, etc.
Free Support
If you require assistance with links etc, simply submit a support ticket and we will promptly help you.
How to Join
Joining our Affiliate Program is easy - and fast!..
Simply complete the short online Affiliate application form - ... then
Choose from our links library the banners or links that you want to use.
Copy and paste the html code we supply to your website, email, newsletter, etc.
We look forward to welcoming you as a valued Affiliate. Join Today!